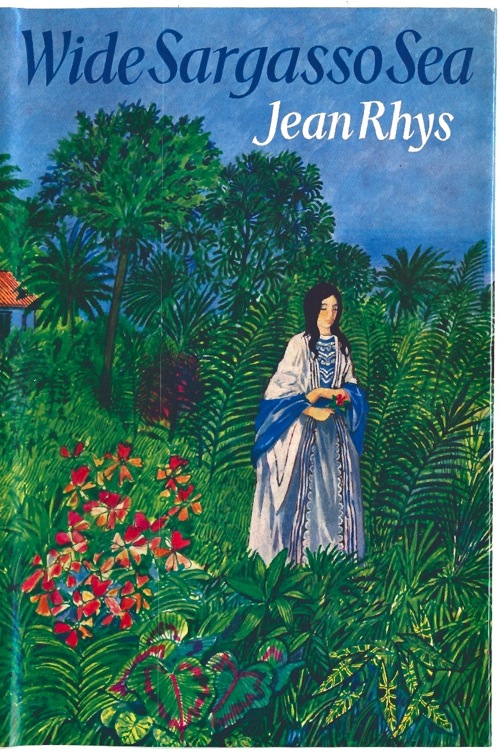 — Jean Rhys [pseudonym of Ella Gwendoline Rees Williams, 1890-1979]. Wide Sargasso Sea. Introduction by Francis Wyndham. André Deutsch, 1966.
Wide Sargasso Sea is the story of Antoinette Cosway, Creole heiress to lands in Jamaica and Dominica, who grows up almost a feral child on the ruined estate of Coulibri in Jamaica. It is a novel where the cadences and warmth of the West Indies sing from the first paragraph, when Antoinette's servant Christophine says, "because she pretty like pretty self". Set against the tumult of emancipation of the slaves in British lands in the 1830s, "(My father, visitors, horses, feeling safe in bed — all belonged to the past.)", Wide Sargasso Sea is an indictment of a legal system that condones the assignment of a wife's money and properties to the fortune-hunting husband : for it is also the story of the first Mrs. Rochester of Jane Eyre.
Helen Carr writes in the ODNB of her earlier novels, "Rhys explored issues of sexual morality, identity, power, and marginality, in a way now recognized as far ahead of her time." Wide Sargasso Sea continues that exploration in a manner that illuminates dark corners and tacit assumptions of Jane Eyre. Antoinette's husband is an English interloper so indifferent to her background and person that he calls her "Bertha" and spurns her for complaisant "light brown girls" ; the estate of Granbois on Dominica is tainted for her. "But I loved this place and you have made it into a place I hate."
Antoinette's loyal servant and confidante Christophine, one of the great personalities of the novel, has Mr. R.'s number. She  confronts him  with his philandering, "But she love money like you love money — must be why you come together. Like goes to like." She sees clearly what he intends for Antoinette, "You want her money but you don't want her. It is in your mind to pretend she is mad, I know it. The doctors say what you tell them to say. That man Richard he say what you want him to say — glad and willing too, I know. [. . .] You do that for money? But you wicked like Satan self !" He threatens Christophine with with the police, and takes Antoinette away, to England, an unreal place.
Wide Sargasso Sea is a critical fiction, a swift, sharp novel enriched by the author's childhood on the island of Dominica (one person's magical realism is another's daily reality). From the fire that consumes Coulibri in Antoinette's childhood and the manipulations of her step-brother Richard Mason, the narrative moves inextricably into the text of Jane Eyre. Elements and incidents of the Brontë novel — fire, full moon, moths, "when I felt her teeth in my arm", gin, and above all, money — are so deeply threaded into the vocabulary of Wide Sargasso Sea that to the terrible conclusion is to walk the corridors of Thornfield Hall with new awareness.